Phonics
Phonics at St Giles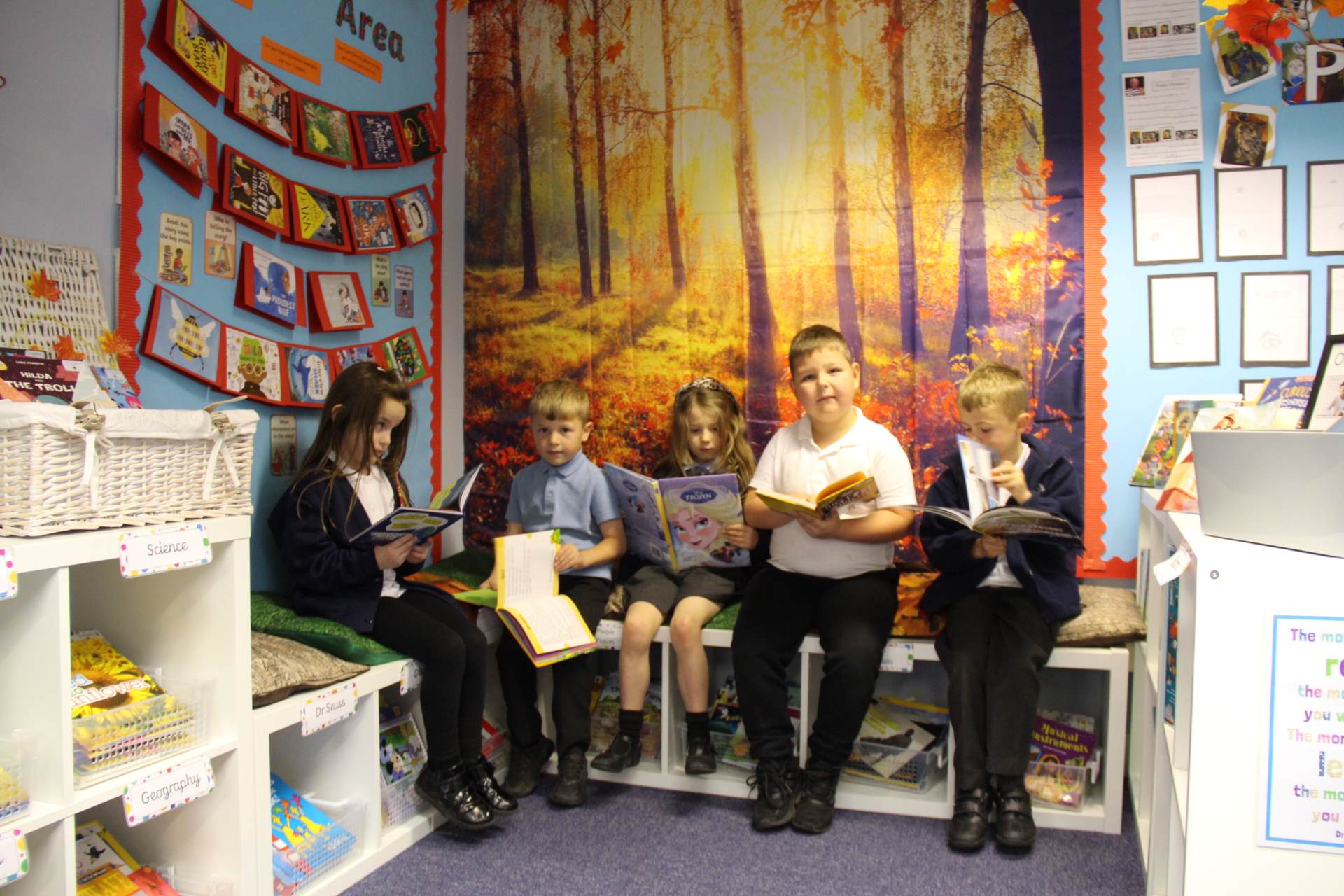 Intent
At St Giles Primary, writing and reading is an essential part of our curriculum and we are passionate about ensuring all children become confident readers and writers. We recognise reading as a key life skill, which underpins access to the rest of the curriculum. We aim for all children to learn key phonic knowledge and develop skills in segmenting and blending. We aim for children to read words and simple sentences by the end of Reception, become successful, fluent readers by the end of Key Stage 1 and develop a lifelong love of reading as they move through school. We value and encourage pupils to read for enjoyment and we recognise that this starts with the foundations of acquiring letter sounds, segmenting and blending skills and enjoying success.
By the end of Reception, the aim is for all children to have a secure understanding of Phases 2 and 3 and to be able to segment and blend words within these phases. Children are introduced to tricky words in Reception and we aspire for all children to be able to read the high frequency words for Phase 2 and 3 before they enter Year 1. We also aim for children to be able to write the high frequency words in Phase 2. Our aim in Year 1 is to ensure that all children have completed phases 4 and 5 in Year 1. We aim for all children to be able to read and write the tricky words in phases 3, 4 and 5 within Year 1, as well as the other words on the high frequency list.
Implementation
At St Giles Primary School, we consistently follow the 'Letters and Sounds' programme. This systematic programme teaches the essential skills needed for reading. Phonics is taught through daily whole class teaching input across Reception and KS1. Each phonics lesson includes the following elements:
Revise - recap the previous graphemes that have been taught previously.
Teach - introduce a new grapheme.
Practise - develop GPCs (grapheme/phoneme correspondence). Children are given the opportunities to read and spell words using the taught grapheme.
Apply - Children to be given opportunities to read and write words and sentences, including the taught grapheme.
Assess - monitor progress within each phase to inform planning.
Our children have phonically decodable books matched to their phonics knowledge and they are encouraged to read regularly at home, to ensure fluency in reading is developed. All of our books are Harper Collins Big Cat books.
The progress of phonics is regularly measured and assessed using Phonics Tracker, within EYFS and KS1. We assess every child at the start of every half-term and this informs planning and allows teachers to identify any gaps in learning. Targeted stage-appropriate interventions are then organised into small groups to support such children.
Pupils have regular reading sessions with an adult to ensure they are regularly practising and applying their phonics knowledge. This includes extra one-to-one reading for those children who are most vulnerable to enable them to catch up to meet age related expectations. In the EYFS the continuous provision matches children's current knowledge and understanding whilst ensuring the children are suitably challenged.
Impact
As a result of our teaching of systematic phonics, our children make good progress. If children are working at an age-appropriate phase, they are deemed to be making good progress. In addition, we measure the impact of our phonics through the following methods:
Half termly assessments on Phonics Tracker from EYFS to Y2
Tracking the children through the decodable books
Listening to children read
Assessed use of phonics within the children's writing
Phonics screening at the end of Year 1